Sustainable Blue-Green Economy in Sri Lanka and the Indian Ocean
In July 2018, MIND brought together key stakeholders from the research community, government, business and civil society, to further explore ideas on the sustainable blue-green economy in Sri Lanka and the Indian Ocean, and to define pilot projects and develop applied research proposals for major funding, and for subsequent implementation of research results and policy recommendations. This focus on sustainable development of ocean resources is supported by the recent report of the Presidential Expert Committee (PEC) on Sustanable Sri Lanka 2030 Vision - Strategic Path, which envisages Sri Lanka as a prosperous, upper middle income, green and socially harmonious Indian Ocean hub by 2030.
Sustainable Ocean Resources Network (SORN) was created by a group of industry leaders and researchers that seek to highlight the importance of the natural resources of the Indian ocean surrounding Sri Lanka and its importance to the national sustainable development strategy. This network will facilitate interested parties to collaborate and share research and news on maritime security, marine ecosystems, sustainable fishing and the effects of ocean pollution. Our aim is to continue the conversation in order to find feasible solutions and long term practical research and applications for the most pressing issues dealing with the Blue-Green Economy.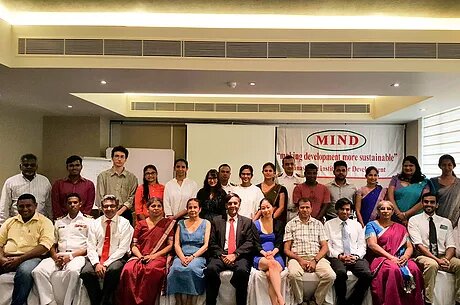 MIND institute together with the Sustainable Ocean Resources Network (SORN), SOAS University of London and Sri Jayawardanapura University conducted an economic and a status analysis in Kalpitiya Peninsula to inform policy for protection of ecosystems in the area. Traditionally a fishing areas, Kalpitiya peninsula is increasingly affected by the tourism industry – increasing number of tourist hotels (large, small and micro scale), clearing land for commercial uses (mainly hotels (and decreasing yields in some instances), clearing of mangroves, damages to sand dunes, increasing industries such as aquaculture (prawn farming), salt farming (not so much related to tourism), crowded beaches, increasing boat traffic, and coastal development such as reclamation, erosion, accretion and sedimentation etc. are growing in the area. These activities have a variety of impacts, both positive (increased income for locals) and negative (harm to mangroves and other ecosystems).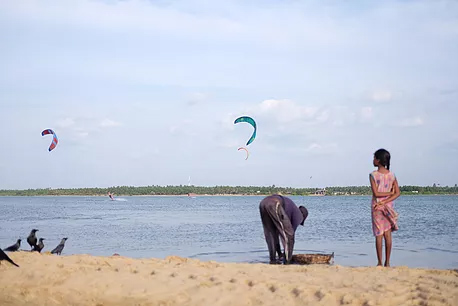 My Kalpitiya Adventures, the children's game book was created using the knowledge gathered from this analysis.
Read the book ->